Annual Christmas Party
December 14, 2013
The Tradition Continues! The annual House Christmas Party is Saturday, December 14, 6:30 - 9:00 pm at The Catholic Worker House on Walnut and 14th Streets. You are invited to celebrate the holiday with our staff, guests and supporters — complete with jazz band, tasty food and dubious caroling. There is no charge and all are welcome.
Spring 2013 Newsletter
In this issue:
Remembering Karl Fields
Guest Stories - Benny Moyers & Demarco Singletary
Staff Spotlight - John Monhollen
Article – About Dorothy Day
Board of Trustees Update

One Brick at a Time Project
We have completed reconstruction of the House front porch, but are still seeking donors wishing to purchase a commemorative brick for just $35. Your donation will help defray the cost of our new front porch and entry area; your brick will be imprinted with your name or message. Donations are accepted by check or credit card.
Download the "One Brick at a Time" order form »
View our new front porch »
In Loving Memory: Karl Fields
Karl, a devoted husband and father, was the House Manager at the St. Francis / St. Joseph Catholic Worker House, where he dedicated his life to helping homeless men get off the streets and rebuild their lives. He passed away peacefully on January 4th, 2013 at the age of 57.
The House
St. Francis - St. Joseph Catholic Worker House is a safe and dignified environment where homeless men can work on securing immediate needs of housing, employment, drug/alcohol rehabilitation and case management. We've been an emergency shelter since 1985, so our primary goal is to assist guests in finding permanent housing as quickly as possible.
Our existence is totally dependent on private donations; we receive no governmental funding. Less than 6% of our annual budget goes to administrative expenses. Building a family of personal and community relationships with those who believe in our mission is critical to our success and our survival.
Learn more about us, who we serve, and how you can help.
House Needs
Pillows, towels, wash cloths, salt, pepper, spices, ketchup, hot sauce, mustard, pickles and paper towels. Donations of any of these items are always appreciated.

Contribute
St. Francis - St. Joseph CW House operates successfully on a small budget. Our needs are few and simple. But, we do request your financial help to continue the good work.
Please consider sending a tax-deductible gift to support the good work at the worker house. Donate online, or mail a check payable to SFSJ to our address below. Thank You.
"People say, what is the sense of our small effort? They cannot see that we must lay one brick at a time, take one step at a time. A pebble cast into a pond causes ripples that spread in all directions. Each one of our thoughts, words and deeds is like that. No one has a right to sit down and feel hopeless. There is too much work to do." — Dorothy Day
Fox-19 Segment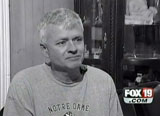 Fox-19 TV broadcast a news segment highlighting the role that St. Francis - St. Joseph Catholic Worker House fills in ministering to the homeless of Cincinnati.
View the clip»
AA Meetings
Open AA Meetings are held at the House every Tuesday and Thursday at 7:00 p.m. All interested are invited.