11th Annual Freestore Foodbank Hunger Walk
This year's Hunger Walk for the Freestore Foodbank was a success! More than 5,000 were in attendance, including walkers for St. Francis/St. Joseph. Our agency was able to raise $315 in credits which go towards our annual food budget. The Freestore is still accepting donations, and you can donate to our agency here:
St. Francis – St. Joseph Team Page
This year's walkers included staff member Ron Brown, our new transition coach Jerome Byrd, volunteers Glenn, Gail, Sydney, Jim & Susan. Alumni and friends included Robert, Joe, Devon, Cam, Nick, and John. A special thanks to all who could attend.
Spring 2014 Newsletter
In this issue:
Easter Blessings
Guest Stories - Ralph Roberts, Carl McGee, Robert Moore, Lee Bays
Staff Spotlight - Ron Brown
Volunteer Hero - Carolyn West
An Interview with Meridith Owensby, Co-Director of St. Lydia's House
Board of Trustees Update
The House
St. Francis - St. Joseph Catholic Worker House is a safe and dignified environment where homeless men can work on securing immediate needs of housing, employment, drug/alcohol rehabilitation and case management. We've been an emergency shelter since 1985, so our primary goal is to assist guests in finding permanent housing as quickly as possible.
Our existence is totally dependent on private donations; we receive no governmental funding. Less than 6% of our annual budget goes to administrative expenses. Building a family of personal and community relationships with those who believe in our mission is critical to our success and our survival.
Learn more about us, who we serve, and how you can help.
House Needs
Pillows, towels, wash cloths, salt, pepper, spices, ketchup, hot sauce, mustard, pickles and paper towels. Donations of any of these items are always appreciated.

Contribute
St. Francis - St. Joseph CW House operates successfully on a small budget. Our needs are few and simple. But, we do request your financial help to continue the good work.
Please consider sending a tax-deductible gift to support the good work at the worker house. Donate online, or mail a check payable to SFSJ to our address below. Thank You.
"People say, what is the sense of our small effort? They cannot see that we must lay one brick at a time, take one step at a time. A pebble cast into a pond causes ripples that spread in all directions. Each one of our thoughts, words and deeds is like that. No one has a right to sit down and feel hopeless. There is too much work to do." — Dorothy Day
Fox-19 Segment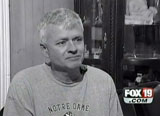 Fox-19 TV broadcast a news segment highlighting the role that St. Francis - St. Joseph Catholic Worker House fills in ministering to the homeless of Cincinnati.
View the clip»
AA Meetings
Open AA Meetings are held at the House every Tuesday and Thursday at 7:00 p.m. All interested are invited.